Why speak when you can be silent? and yet, since the sexy videos of the riots that took place in Exarcheia on Saturday, June 25 have gained a lot of views, the English-speaking audience might benefit from some context. What follows is my account of that night, from the perspective of a neighborhood resident, anarchist, etc.
To viscerally understand the sequence of events, your best bet is to watch this excellent video, the description of which includes a text about that night's anti-gentrification demo:
You could also enjoy this catchy dance remix!
Sūnzǐ Bīngfǎ #38: Kriegstagebuch aus der Ukraine [Part 2], Das Attentat auf Pinochet, Erinnerungen an Wounded Knee, Impressionen aus dem Mai 68, "…dass Leben im Imperialismus nur im Widerstand möglich ist" und noch einiges mehr auf https://t.co/NoMhXzsIjq pic.twitter.com/7xhzdAG3hx

— Sūnzǐ Bīngfǎ (@Sunzi_Bingfa) June 27, 2022
Exarcheia has seen some kind of clash with the police many weekends, but to discuss why exactly this one took place and why it was so ferocious, let's begin with a little background.
FIRST SIDEBAR: the gentrification of Exarcheia
I never want to assume anyone knows anything, so here goes: Exarcheia is a legendarily (well, arguably) self-managed anarchist neighborhood in the center of Athens Greece that has for many years been under coordinated attack from the borderless powers of capital. This means foreign investors buying buildings, AirBnB, and useless rich effectively apolitical "artists" or techies from more prosperous parts of the world. At the same time, Exarcheia's a high-profile target for the current right-wing Greek government, New Democracy, who view its anarchists and squats as irritating symbols of anti-state defiance.
The attitude of the Greek right towards Exarcheia is similar to the U.S. right wing's superstitious, blissfully Facebook-misinformed fixation on "antifa," with the important exception that there are some elements of truth to the Greek right's anarchist bogeyman. While the anarchists in Exarcheia may or may not really fly from rooftop to rooftop like Batman (a popular urban legend a few years back), it's accurate to say that many people in Exarcheia do in fact hate the police, hate the state and capitalism and hate the prevailing social order imposed from above.
Many governments have waged war against Exarcheia in different ways, for example by flooding the neighborhood with drug dealers, some or most of whom are police snitches. I have found transcripts of anarchist meetings in the Polytechnic from the late '80s where one of the agenda items is "what do we do about all these drug dealers?"
Greece's previous government, Syriza, tried to undercut the anarchist movement in part through insidious "soft power" co-options of movement spaces and initiatives. The current government, New Democracy, has opted for a more direct frontal assault, posting MAT riot cops throughout the neighborhood and letting the DELTA motorcycle squad rampage around and terrorize inhabitants at will. One of the government's current higher-profile initiatives is to destroy Plateia (Exarcheia Square) entirely and replace it with a subway station.
Plateia as it exists certainly isn't Eden, but in the words of one longtime resident, "it is still a meeting point of the neighborhood, a green space and the only playground for the children of the region." If the metro station plan goes ahead, "the trees and bushes will be cut, the area will be closed as a construction site for at least a decade and what will replace it will not be a Square as we know it today, but an area of escalators and concrete boxes."
There has been a precipitous increase in rents in Athens, while the locals still make nearly no money. It's another rendition of the ugly story seen in cities worldwide– while the Greek government uses tax breaks and offers of citizenship to encourage foreign investors to buy up whole buildings and blocks.
There are many other Exarcheia battlefronts, including the untamed parkland of Strefi Hill and the decades-squatted Polytechnic Universty  (birthplace of the revolution that overthrew the Junta!), but I dwell on the Exarcheia metro station because its attempted construction may kick off at any moment.
The June 25 call to action, translated into English, is a good primer on Exarcheia's present struggles with gentrification:
Athens (Greece): International day of action in defence of Exarchia neighborhood, 25 June 2022
I have seen some foreign coverage of the June 25 riots refer to June 25 as "Day X," but as someone who really likes the "Day X" concept, allow me a gentle clarification. Day X is yet to arrive. The Day X campaign is about readiness: Day X is whatever day the Metro construction companies actually attempt to begin work in Plateia. We don't know if Day X will come next week, during the dog days of August when the Square is emptiest, or maybe never… but the idea is to be prepared for Day X, to ask each other: How are you getting ready for Day X? What will you and your affinity group do on Day X?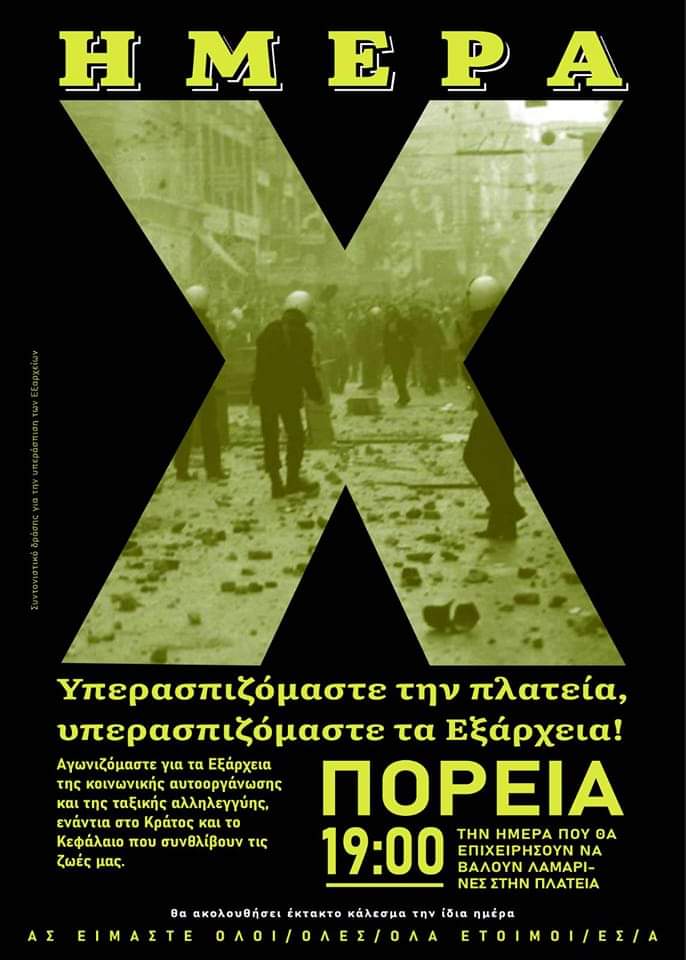 The state's agenda and the agenda of "investors" and AirBnB speculators converge on sterilizing Exarcheia, strip-mining it from a living neighborhood into a dead aesthetic spectacle for the consumption of tourists.
That said, the American tourists I encountered on Koletti during the riots Saturday night didn't seem to be enjoying the edgy entertainment of hundreds of people fighting the police, nor the exciting explosions and fires filling the streets and alleys. They seemed utterly terrified.
A German report says some tourists participated in the stone-throwing. I didn't notice that at the barricades along Koletti, but of course that doesn't mean it didn't happen. Still, without attaching any undue importance to my own opinion, I'm inclined to welcome anyone to throw a stone at the cops. Now, I got my own introduction to Greece as a "riot tourist" years ago, so maybe I'm biased!
Some mainstream Greek news coverage described the riots as a response to the ongoing incarceration of anarchist Giannis Michaeladis, aka "The Archer of Syntagma," a brave comrade on hunger strike. There was a big march in support of him the day before, 24 May (during which anarchists backed down the MAT riot police) but although some of those throwing stones and molotovs on the 25th certainly shouted "for Yiannis," I think it's worth being clear on the specific issues in the neighborhood around which the night's action was organized.
To quote one of the chants heard throughout the night:
"Exarcheia Square, Strefi Hill, Polytechnic — Exarcheia is not a museum!"
END SIDEBAR
1. delta takes a seat
This part I wasn't present for– my companion and I were still getting our shoes on and finishing our delicious pre-demo cocktails when we heard the first big BOOMs from Plateia.
"Could be a garbage truck," we said.
Then: BOOM! BA-BOOM!
"Ok, that's not a garbage truck!"
I ran to the Square just in time to get a nice big lungful of lingering teargas. While some might poke fun, I would argue that by constantly inhaling disproportionate amounts of teargas all over the center of Athens I provide my comrades a valuable service. There's only so much teargas, you know? If my capacious lungs are always on the scene slurping it up like a sweaty black-clad Kirby, I am de facto lessening the amount of teargas everyone else gets exposed to. Also, the sizzling burn of fresh teargas on the skin of my face is a great exfoliant. it's the secret to my youthful appearance!
The teargas was from DELTA (aka ACTION), a specialized anti-anarchist hunter-killer police squad disbanded under the previous government, then reformed under the current right-wing government. DELTA decided to flex on the neighborhood by riding by Plateia on their motorcycles while the gathering for the demo was getting underway. The first time, they came through with just a few bikes, to be provocative, and rather than everyone running away, people stood their ground and heckled and chanted at them.
They returned with more bikes, and there was a near-echo of a legendary event a year ago in Nea Smyrni when some hero peeled one of these parasites off the back of his steed.
In this situation the DELTA, having successfully provoked the neighborhood, jumped off their bikes acting tough and were rewarded with a massive barrage of rocks, bottles, and everything else to hand. One especially foolhardy pig was served a heaping helping of cafe chair. These fascist fucks got nailed with everything that wasn't nailed down, including being sprayed with a fire extinguisher, which disoriented and terrified them. They flung lots of teargas and flashbangs while retreating.
Thread μαγκιά κλανιά και ρόδα ελληνικιά.

1. Πριν την καρέκλα. pic.twitter.com/hXcjVe1JGq

— μπερναμπέο (@bernabeo2022) June 27, 2022
There is a lot of speculation around DELTA's presence earlier in the evening and their subsequent absence. Did DELTA disobey orders when they picked a fight with Exarcheia via multiple ride-throughs? Why didn't the MAT riot cops back them up, as they usually would?  DELTA, which is largely comprised of far-right nationalist fanatics, has "gone rogue" on other occasions– maybe that's what happened here, and partly (or wholly) explains their avoidance of Exarcheia not just for the rest of June 25 but many days since.
According to Dark Nights, "During the riot a car was found with a surveillance camera at the spot where the protest was supposed to begin, also where the [DELTA] cops attacked the crowd before the protest. The car was smashed and the camera was taken."
Another camera-car was found outside a targeted individual's house a few days previous; this seems in my opinion to be part of a recent police reliance on technological surveillance over direct confrontation.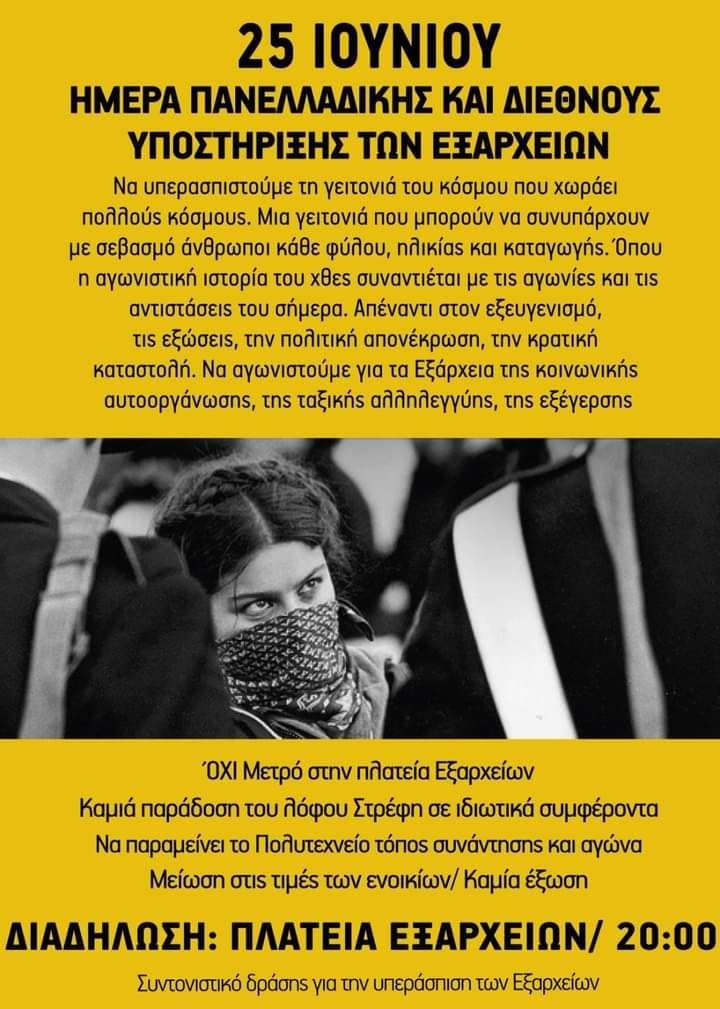 2. the march
Often DELTA rolling up means everyone scatters, but not on June 25. Hundreds upon hundreds remained in or near the Square, re-emerging as the tear gas cleared. Some wanted to march right away after chasing off DELTA, but in the end it took a more standard "little while" before the march got moving.
I've been to a fair amount of these sorts of demos: a varying number of us with a varying degree of militant energy basically run a big patrol route through Exarcheia, including its tonier blocks, as a sort of existential "we're still here" show of force or defiance. Depending on the vibe and the makeup of the march, the chants are loud or not-so-loud, and there's a corresponding quantity of graffiti and security-camera- / yuppie-business-window-breaking along the route.
When the demo passes the outdoor seating areas of upscale cafes, underinformed tourists sometimes try to film it, and are dissuaded.
The march on June 25 was unusually large– I'm terrible with numbers, but I'd say a thousand people, which to me seems like a hell of a lot of anarchists. It was a nice mix of "old school" and younger faces; not everyone was in standard movement garb or ninja'd up, but many were; the crowd had an unusually high proportion of gas masks and stout "flagpoles," heavy wooden sticks with a rectangle of black cloth attached.
Sometimes these demos are all focus, all solemnity, other times they seem to be predominantly casually-dressed zoomers carrying drinks (not molotov cocktails) and joking with each other like kids giggling in church… June 25 was so vast it was impossible to see the whole march or make any kind of generality, but there was definitely a strong triumphal air carried over from the earlier ass-whipping of DELTA.
A year ago, marches like this were closely monitored and harried by police. They not infrequently concluded with charges by MAT or swooping raids by DELTA. Attending these marches, one got in the habit of always peering up alleyways to see if the dreamlike yellow streetlamps would glint on MAT shields or the thanatotic DELTA helmets. This spring and summer, however, police have been weirdly hands-off– invisible and absent during these Exarcheia marches except for a drone overhead.
June 25 was the same way, though someone finally brought a laser pointer to use against the drone, a tactic I'd be happy to see proliferate. I know the neighborhood's two least charming street peddlers sell green lasers… they aren't hard to acquire.
While I am extremely mindful that I am an outsider who understands nothing, it has seemed to me that the absence of the police during recent demos of this kind robbed the marches of a certain frisson — rather than being liberated by the relative "freedom," the marches felt a bit like a marriage ceremony where one party is left waiting at the altar, or a play where the villain remains sullenly offstage.
June 25's march, however, had tremendous energy and when we arrived back at Plateia, the dumpsters were set ablaze and rolled into the intersections almost immediately; the barricades began to go up.
Μύρισε ελευθερία#antireport pic.twitter.com/WRrzgntO8L

— Manolis Labrakis (@LabrakisManolis) June 25, 2022
3. the riot
It was one of those nights there was clearly "bahala" (meaning rock-throwing: the fun, most basic kind of riot) in the air. Nights such as these you can feel its incipience. It's like an electric field built from the energy of everyone present; people remark on it excitedly. The collective, liberatory violence taking shape is like an accelerant in the blood, not unlike a nice date where you both know things are going well, where in every small gesture and glance you feel the night's later action taking shape, you feel yourself part of a collaborative excitement, except that the release of a good riot isn't confined to the couple-form. In fact let's abandon the awkward sexual analogies: the rush of fighting the police alongside friends and strangers is like no other pleasure on earth, and I say that as someone who's been lucky enough to sample more than my share of pleasures.
So– we could feel it! But often even when bahala is imminent, it doesn't take place until the wee hours of the morning, and/or takes place in a region of Exarcheia far from where one's at, and by the time one could get there, it'd be over anyway.
On June 25th, I went home after the march, and had just enough time to kick my shoes off and begin to relax before I heard explosions along Char. Trikoupi– the police riot bus parked in front of the PASOK offices (another political party) had been attacked. Almost immediately after that, I received word that there was action along Koletti.
I put my shoes back on, trundled over and sure enough, there were two significant pressure points on Koletti: one on Themistokleous and one a block up on Em. Benaki. At both those intersections, militants had gathered, set up burning barricades, and were directing volleys of rocks, molotovs and fireworks at the MAT police who stood stupidly on Solonos a block distant.
Someone described the night's riots as being like a throwback to "Syriza days," and it did remind me of December 6 under Syriza, partly because of the boldness of the partisans and partly because the police didn't seem nearly as aggressive as they'd been over the last few years– they just hung back getting battered. Every so often they'd toss a little teargas or shine a big spotlight on someone (the latter was more intimidating than it might sound), but it was basically a shooting gallery for the neighborhood.
There was great courage exhibited by the fighters, some of whom ranged far out in front of the barricades, approaching ass-clenchingly close to the police position on Solonos to deliver especially intense attacks.
"Come on! Come on!" the cops were taunted, over and over, and they were called all sorts of unflattering things. There was even the classic hands-in-the-armpits, elbow-waving chicken dance.
With love from #Exarcheia pic.twitter.com/0CfShfiHKh

— Dialogist (@JimBarrett) June 25, 2022
Some combatants called the cops "whores" a lot. There are many shades of meaning in Greek that I don't trust myself to interpret, and I don't think it's the place of a relative outsider like myself to weigh in on the language used by those fighting the state, but I also feel it would be cowardly not to at least make note of it, seeing as there is recent-but-increasing feminist (and queer) consciousness within the Greek anarchist movement. At times, comrades have remonstrated with one another, even mid-action, over the use of such epithets. As ever, I leave it to the reader's judgement how much anything I write matters.
The munitions deployed by our side were heavy and seemingly inexhaustible. A car caught fire and blew up. There were some timed, carefully coordinated multi-person fusillades of fireworks that I may see replayed in my dreams for years to come.
Throughout the long night at the barricades– well, maybe only an hour or two, but it felt longer — there was constant discussion of DELTA. Were they coming from behind us? Were they back at the Square? Had they been spotted nearby? The answer, always, was "no."
There was only MAT, standing at Solonos– they would peek their heads around the corner, or venture out into the street, get bombarded to a PTSD-inducing degree, and waddle back behind the buildings for safety, over and over.
SECOND SIDEBAR: DELTA vs MAT
I always want to see my enemy's eyes– I genuinely believe that you can learn almost everything you need to know there. If you look into the eyes of the average MAT and the eyes of the average DELTA cop, the difference is immediately obvious. MAT have a flatness and dullness to them; they are simple beasts who, while extremely violent, are above all obedient: their dedication to subservience rules their behavior. When their master looses their leashes they will mercilessly beat anyone in front of them, including elderly schoolteachers, firefighters and even members of parliament– but if they are ordered to march into a lake and stand there until they drown, they will also do that.
If looking into the eyes of MAT is like looking into the stupid and incurious eyes of a dog, looking into the eyes of DELTA is like looking into the eyes of a starving coyote: aggressive, calculating and, it may be said, regrettably intelligent (by cop standards, not human standards).
When the MAT beat you, they are probably thinking about football, Eurovision or nothing at all; DELTA on the other hand are driven by fanaticism; their cocks are hard when their batons are out, they fancy themselves Leonidas slaughtering the degenerate and/or Saracen hordes– they are bloodthirsty bullies searching for any excuse to attack anyone who appears to their eyes queer, lefty or immigrant: they seek any weakness, any pretext to swarm like the pack of predators they are. They're definitely the Saruman-upgraded neo-orcs.
Make no mistake, MAT routinely commits tremendous violence– you are far likelier to be brutalized by them than by DELTA– but they lack DELTA's initiative, mobility and cunning.
On June 25, we saw both sides: the DELTA zipping around instigating trouble and then, later at night, the hapless grunts of MAT staying put. Without the order to engage their attackers or retreat, MAT simply stood stupidly in the intersections they were assigned, subjected to a biblically apocalyptic rain of rocks, fireworks and molotovs (their heavy gear is flame-retardant).
END SIDEBAR
At the same time the riots were going on, independent groups were targeting AirBnBs and boutique hotels throughout the neighborhood for destruction, as noted by this New Democracy-controlled media outlet.
Eventually, MAT were given the order to rush Koletti. That was the end of the night for me. I raced away with another nice big portion of delicious Israeli-made teargas in my tummy; I was full.
A friend who was nearby tells me the MAT hung around Koletti a while, and seemed to be fiddling with shards of glass there, which my friend thought might indicate an attempt at forensics. Whatever the case that night, the state using "DNA evidence" to try and pin crimes on people they don't like is another relatively new trend here.
Most people celebrated late into the night in Exarcheia's bars and alleys; the neighborhood had unquestionably been defended. Normally DELTA (or MAT) will grab a handful of randos after a riot to charge with crimes, as an attempt at saving face, but somehow in all the long hours of mayhem only one (or two? depends who you ask) got arrested. At least one cop was sent to the hospital.
On the heels of this spirited defense of the neighborhood, there are naturally some questions. Will the metro station be prevented? Will Strefi Hill remain unenclosed? Will the Polytechnic remain a site of active struggle, rather than a mere museum of revolt? Will Exarcheia, rapidly hollowed out by capital & tourism, regain itself?
Speaking, as always, only for myself, I don't need positive answers to any of the above. I fight for the love of fighting, for the joy of making war against my enemies. I fight for my own freedom alongside those whose struggles are bound up with mine, be they Arab teenagers, old-school neighborhood bohemians or barely-political football hooligans. "Victory" is is a luxury I can live without, "hope" is a drug I quit years back. All I know is that I love Exarcheia– what it is, what it was, what it represents– and I will fight fiercely as long as I'm able, as long as there are others who share my desires. That fight itself is more than enough for me… and in fact, it's all there is.