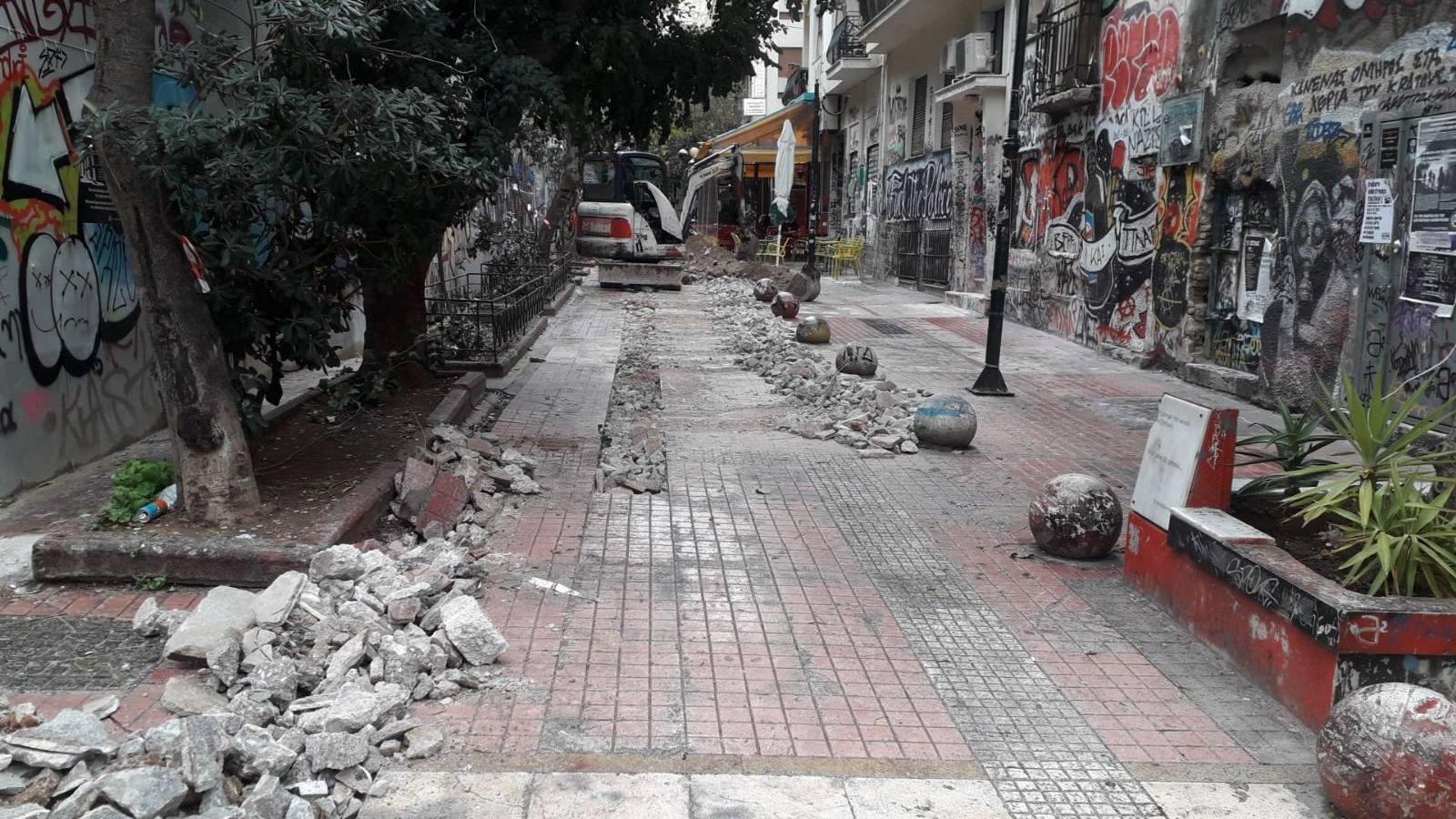 Exarcheia, the historically anarchist neighborhood of Athens, is being gentrified by the usual means: "Art" murals signed with instagram handles, property speculation, skyrocketing rents, the hollowing-out of residential buildings by AirBnB and, of course, increased policing.
Now, in the narrow alley of Messolonghi, on the very same block where police killed Alexis Grigoropoulos, profiteers are trying to turn a long-empty shell of a building into luxury apartments. But Exarcheia is not yet pacified, not yet a place where people respond to such outrages merely by grumbling on Facebook.
So how does one prevent gentrification? By fucking preventing it! This is a translation of a post on Athens Indymedia by residents of Exarcheia. One wonders in the coming days, weeks and months how many other problems this disgusting luxury apartment complex project will encounter.
Added clarifications are in brackets; all images sourced from the original post.
---
"This morning, a bulldozer was tearing up the pedestrian street of Messolonghi for the electrification of a luxury apartment building. The work was prevented and a little later the cops came hunting."
This morning, a bulldozer was tearing up the pedestrian street of Messolonghi for the electrification of a luxury apartment building. Someone from the neighborhood approached the workers and asked them what they were doing. The contractor said it was ΔΕΗ [Greek electric utility] construction to provide electricity to the building intended for luxury apartments. When he was asked for his legal permits, he refused while also denying the construction was related to the building, even while the construction workers were entering and leaving it.
The residents managed to stop the works and the contractor left, but Messolonghi street remains in ruins. 15 minutes later six ACTION and DELTA [special hunter-killer police branch] units arrived at the scene looking for the residents.
Exarcheia is a neighborhood under threat of gentrification. Residents are being evicted, squats are getting shut down, rents are rising. This building in Messolonghi, intended for the luxurious residence of the rich and tourists, is another example of capital. Every day we see the neighborhood changing and transforming into a playground for big investors. At the same time, Exarcheia Square and Strefi Hill are under constant threat.
The pedestrian street of Messolonghi has always been a symbol of uprising and resistance, a public space of socialization and politicization that is still used daily by many people. The creation of this building will wipe out the character of the street and the neighborhood. At the same time, the police are becoming more and more suffocating, with the uniformed sheriffs bullying and arresting whomever they see before them. It is our collective responsibility to blockade the plans of the state and capital.
We call on everyone to be vigilant …
NOT IN EXARCHEIA OR ANYWHERE, GENTRIFIERS OUT OF EVERY NEIGHBORHOOD
FIRST COPS, THEN CONTRACTORS, COMPANIES AND OTHER NONSENSE