This was part one of a planned three-part series on Art, Race & Real Estate in New Orleans for a periodical called The Shotgun, which has since vanished from the web. You can read part two here.
---
Blackness has long been attractive to edgy white American artists, but New Orleans seems a magnet for a certain kind of shameless, tone-deaf racist art scammer. In 2014, one wealthy New Orleans white woman in her fifties gave herself the name "Ti-Rock Moore" and launched a successful art career founded on depicting Black suffering and racist imagery.
In an interview with nola.com arts writer Doug MacCash, Moore said her "privileged" white upbringing gives her an "acute" perspective on American racism. Moore made news in 2015 when some less acute viewers took issue with her life-size rendering of Ferguson police-violence victim Michael Brown's corpse, which she'd arranged face-down on an art gallery floor. Condemnation came from many quarters, including Brown's father, who called the artwork "disgusting."
Moore was unfazed. "I know how necessary this art installation is," she said. "I know it's important."
"Because of all the negative feedback," Moore told MacCash, "it is obvious that we have communicated my message loud and clear."
There's a big market for Black pain; one of Moore's artworks, a Confederate flag decorated with the names of the nine Black churchgoers murdered by white-supremacist shooter Dylann Roof, sold for $4,500. Moore's art has won a couple prizes. The Jonathan Ferrara gallery's website brags that her Art Basel installation piece about Flint's unsafe drinking water was purchased by a prominent collector, an "art world doyenne born into a New York real estate fortune."
While Moore's art sells for high prices, it's not her only income stream. She's a frequent flyer at Harrah's, often spending several hours and thousands of dollars at a time on high-limit slot machines.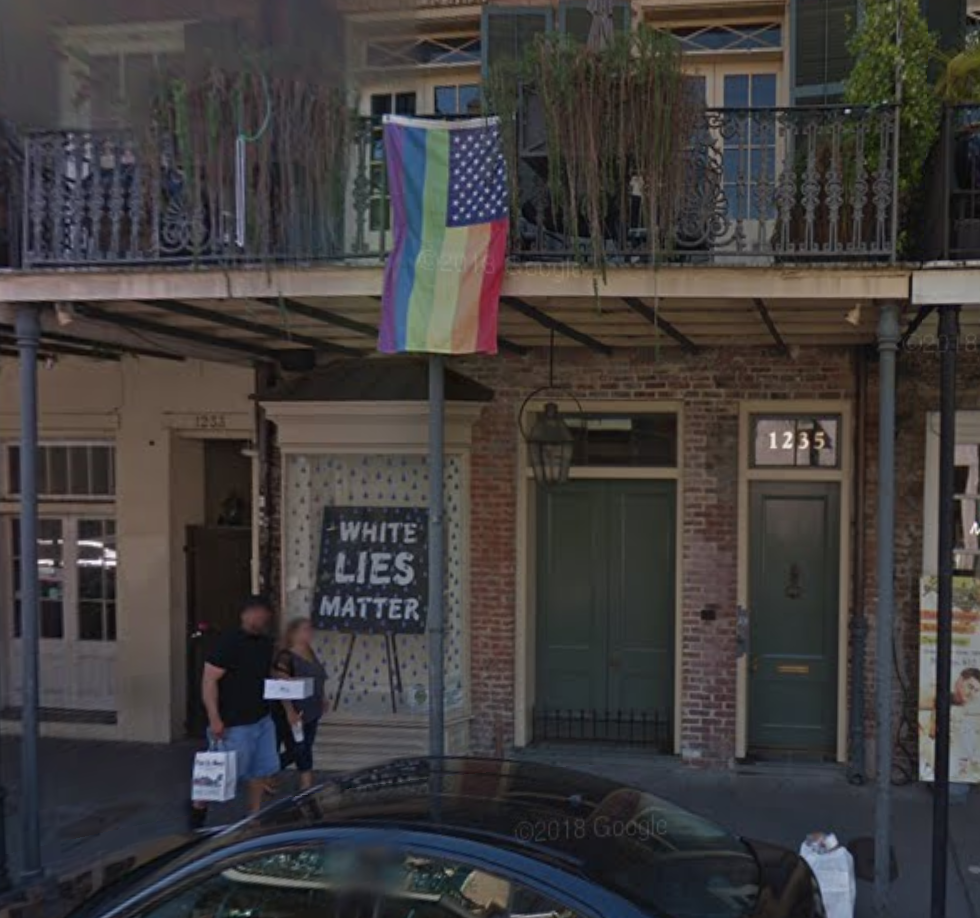 She also had, for much of 2017, an art installation in the bay window of 1235 Decatur Street. The window was surrounded by posters from the French Quarter Business Association reminding potential critics that defacement of anything in the French Quarter is an automatic felony. The center of the art installation was a mock protest sign (signed by Moore) piously proclaiming "White Lies Matter."
Do white lies matter, though? According to the Louisiana Secretary of State, 1235 Decatur St. is also the registered address of Kathryn Philpott-Hill, D.D.S. PA. Corp., a dental business entity whose sole agent and officer is one Kathryn Philpott-Hill. The same document lists Philpott-Hill's previous address as Asheville, NC.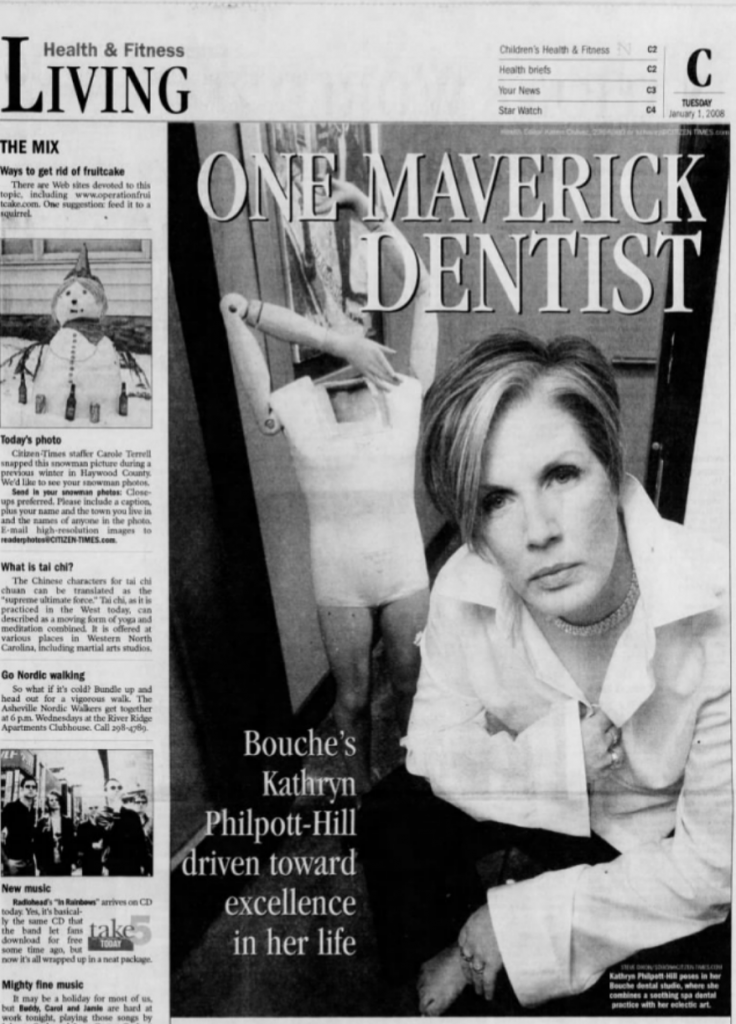 A breathless January 2008 profile of cosmetic dentist Kathryn Philpott-Hill in the Asheville Citizen-Times newspaper discusses her upbringing in Jackson Square's Pontalba Apartments and includes a photo of… Ti-Rock Moore?
It's difficult to learn much about Asheville dentist Kathryn Philpott-Hill; her search results bear the hallmarks of a high-dollar professional reputation firm's deliberate scrubbing. But deep in the internet's dustiest archives, on the now-defunct topix.com comment boards for the Asheville Citizen-Times, there were until recently hundreds of message-board posts from dozens of North Carolinians responding to a series of news articles about the sudden closing of Philpott-Hill's cosmetic dentistry business, Bouche Studio. These dozens of North Carolinians seem to believe Kathryn Philpott-Hill, a dentist from New Orleans, scammed them out of tens of thousands of dollars. You can read some preserved selections from these message board posts here, here, here, here and here.
Ti-Rock Moore is dating the same person Kathryn Philpott-Hill did. It seems that Ti-Rock Moore the exploitative, race-hustling gallery artist may in fact be Kathryn Philpott-Hill, the reviled Barbara-Streisand-obsessed dentist who lost her license to practice in 2008.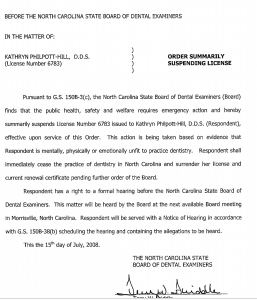 I've scoured legal records and newspaper archives but can find nothing suggesting Kathryn Philpott-Hill ever faced legal comeuppance for her alleged swindles back in Asheville, beyond getting her license permanently revoked in 2011. The paper trail says she claimed a nervous breakdown and then skipped town, retreating into her and her longtime partner's vast wealth– including their real-estate holdings.
Hard to believe someone could get away with all that, but based on her apparent recent liquidity issues– Moore's been hitting up local acquaintances for loans and driving Lyft– she might for legal reasons have shifted most of her assets out of her own name and reach. As her expensive, tacky sculptures sanctimoniously remind us, rich white people experience a different standard of "justice."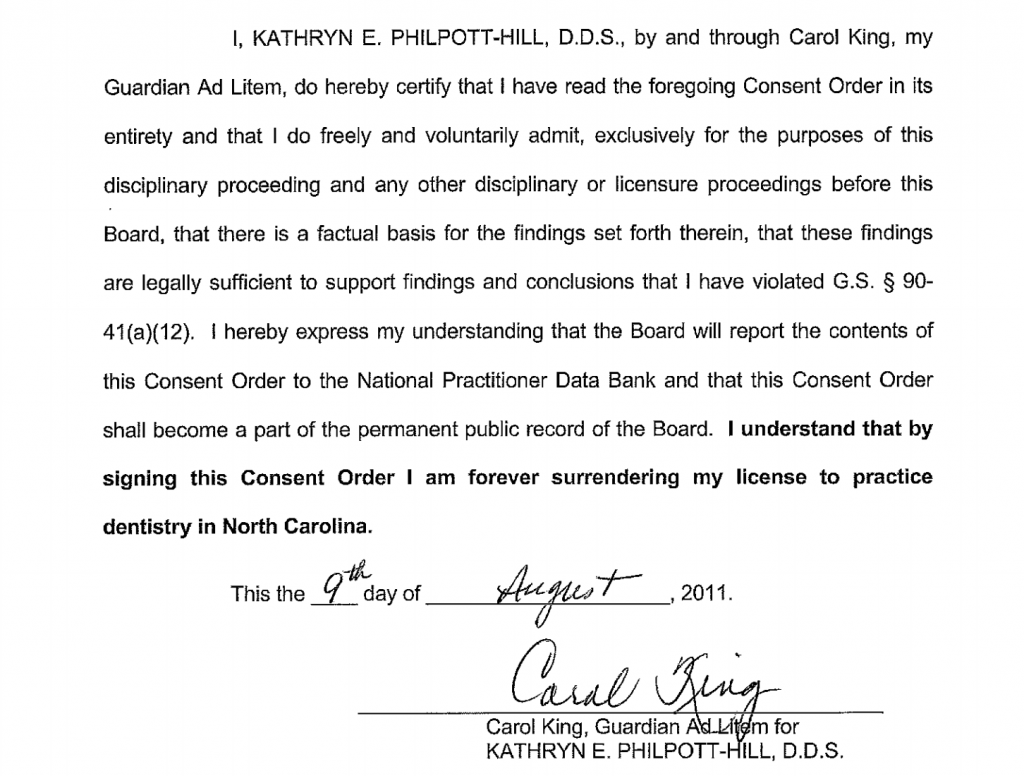 There is something to learn from this artist's work, though not from the calculatedly shocking ham-fisted crudity of her so-called art. Look instead at Ti-Rock Moore's life, a life wherein her bottomless money reserves let her grab headlines by commissioning anonymous craftspeople to make cheap shock-value art she then exhibits as her own, a life wherein her wealth has not only spared her any consequences for all her fuckups and alleged criminal wrongdoings but even let her scrub the accusations off the internet. Ti-Rock Moore's empty, shady, bullshit life is itself a powerfully instructive work.
---
A few years back, just a couple blocks down Decatur from Ti-Rock's castle, a Black man named Anthony Chapman wrote "Natural Hair 4 the Brown Skin" in small letters on a wall with a magic marker. As originally reported by Charles Maldonado for the Gambit, he was charged with a felony. Chapman on Facebook said he spent months in jail.
As the signs Moore posted around her artwork remind us, graffiti in the French Quarter carries an automatic felony enhancement. Does it seem strange, then, that the tirelessly self-promoting junk-art juggernaut Muck Rock, a British-born white woman, has never faced consequences for any of her graffiti, including that in the French Quarter?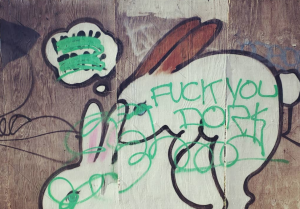 Laws are stupid and nobody should be arrested, but it's worth contrasting the treatment Anthony Chapman got to that given Muck Rock, who documents herself painting racist murals all over New Orleans and gets lauded in what remains of the Times-Picayune for doing so.
Out on Lincoln Beach, destination for a generation of Black New Orleanians forbidden by segregation from visiting Pontchartrain Beach, Muck Rock painted a chimpanzee with gold teeth dreaming of marijuana. She covered a block of St. Claude with portraits of slave-owners; she painted an eight-foot-tall Charles Manson face with a swastika.
Locals hated her shit and painted over it. She came back and painted more. She told NOLA.com arts writer Doug MacCash that she sees her murals as gifts to the places she visits, explaining that in other cities companies like Google paid her to decorate their properties.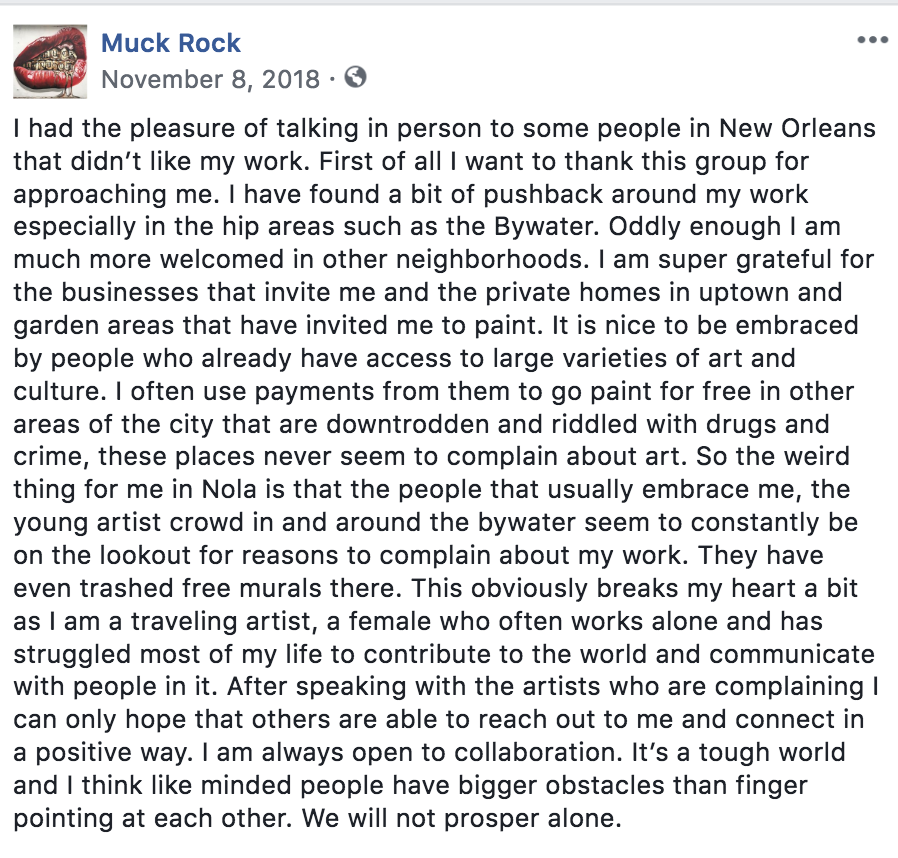 The white techie group Chewbacchus asked her to ride as Queen in one of their parades, and as a riposte to her haters, she graced St. Claude with a portrait of Sitting Bull, the legendary Lakota warrior who successfully fought the U.S. Army and was killed at Standing Rock. Muck Rock then scrawled the words "LOCALS ONLY" in red across his face, and added the words "indigenous to planet earth" under her signature next to it.
Local painters took care of that too. She went away again; she came back again. She painted legal murals for businesses and some high-end Airbnbs, including the one she owns, a whole-home rental at 1724 Piety St.
Recently, Muck painted a portrait of former RTA Director Bob Tucker, mislabeling him as New Orleans' first Black mayor, Dutch Morial, because Muck Rock can't be bothered to distinguish one Black person from another– not even famous, historically important ones.
The building on which she painted this is owned by AirBnB entrepreneur Jeffrey Farshad, who, we learned from Alex Woodward's excellent reporting in Gambit, "owns multiple properties in New Orleans, including six 'temporary' short-term rentals; he has permits pending for five full-time commercial short-term rentals and another 'temporary' rental, according to city records."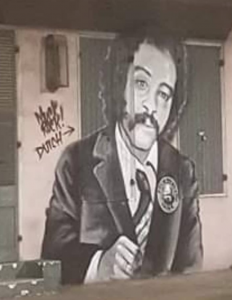 While Muck Rock (with no permit, of course) painted a historical French Quarter building with the wrong Black man, Farshad DJed in the bike lane and streamed it all on Instagram.
Graffiti as it exists within the U.S. developed within densely populated, mostly poor and mostly Black communities. Now, however, most graffiti seems to have become a mere aesthetic, part of a carefully decontextualized and deracialized "urban experience" that real-estate developers use to market luxury housing to boring, over-moneyed young whites in the same cities and areas of cities that those white kids' parents fled a few decades ago.
White boomers fled cities when the legal segregation that had kept their neighborhoods and schools "pure white" began crumbling, but especially now that charter schools have effectively reinstituted segregation, their pallid spawn are rolling right back in.
No mere anti-segregation law can contain the majesty of the free market. Low local wages, high rents, charter schools, AirBnB speculation and the destruction of affordable housing are all working to rapidly re-whiten urban neighborhoods, albeit enhancing their yuppie appeal with some jazzy and phonky new visual trappings to help sell the new generation of invaders a sense of their own adventurousness.
This is how we ended up with the unforgivable spectacle on Marais and Touro: a literally house-sized photorealistic mural of a lounging white dude in jeans, Ray-Bans & an undershirt, reading Rimbaud and fingering a harmonica.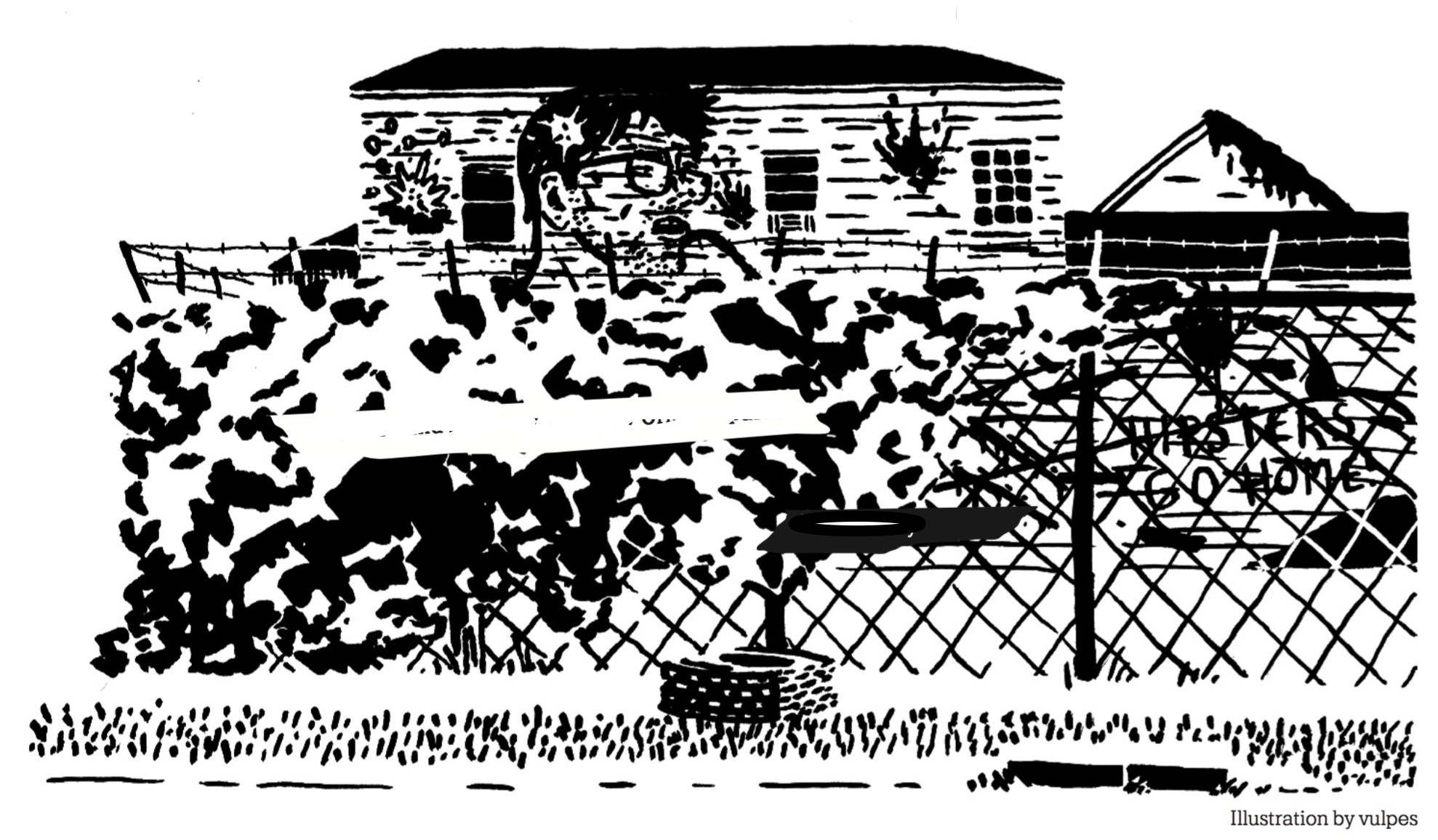 This sullen colossus of undergraduate mediocrity, painted by the white European muralist MTO, has been repeatedly defaced by locals who object to it, prompting the property owners to protect it behind a series of progressively higher and thicker fences.
Now relatively safe from the community he disinterestedly dominates, this towering Stay-Puft Marshmallow Mansplainer towers over the Lilliputian residents of his once-Black, rapidly-lightening neighborhood: an Attack-on-Titan-sized version of the exact type of prick making the St. Bernard Avenue corridor unbearable.
MTO was gone from New Orleans for several years, but that same AirBnB developer who partenered with Muck Rock, Jeffrey Farshad, just a couple months ago paid MTO big money to come back and do a series of additional murals around the city, this time depicting Black folks. It's 2019, and Farshad knows what sells.
Farshad's one of many New Orleans property developers taking a public-relations page from downtown megadeveloper Sean Cummings, who carefully preserved scraps of graffiti in his (shoddy, leaky) Rice Mill Lofts. Cummings is, alas, quick to scrub out subsequent graffiti additions such as STOP FUCKING GENTRIFYING and, more recently, the perennial haunting truth YUPPY = BAD.
Cummings has also closely aligned himself with the graffiti muralist Brandan "B-mike" Odums, who's Black and from here, and whose work tends to celebrate Black achievement and possibility. Throwing money at the genuinely talented Odums is an attempt by Sean Cummings to "art-wash" the unprecedentedly massive Houstonian luxury-condo complexes Cummings has underway on Press Street and the Ninth Ward's riverfront.
This phenomenon is not unique to New Orleans. In a sizzling December 2018 New Inquiry article titled "How the Bronx was Branded," Shellyne Rodriguez wrote about a megadeveloper named Keith Rubenstein using the Bronx's role in hip-hop history to market luxury housing to wealthy newcomers– abetted by, among others, the rapper-producer Swizz Beatz, who lent his imprimatur to a controversial "art fair" held inside one of Rubenstein's real-estate acquisitions. Rubenstein had previously co-hosted, along with an art dealer, a high-end celebrity-studded rave with a "Bronx is Burning" theme featuring burnt-out, bullet-riddled cars and flaming trash barrels as décor.
It's a tradition as old as white entertainers in Blackface, a line running through fraternity Pimps & Hoes parties to white AirBnb-promoting "rappers" like Boyfriend. Once actual Black people are safely priced out or excluded, whatever whites perceive as culturally Black– a perception mostly reflecting white neuroses and desires– can then safely be elevated and fetishized.  As more and more Black residents vanish from downtown New Orleans, murals depicting them can proliferate, the troublesome real replaced with the lifeless ideal.
---
In part two of this series, we'll dig deep into the iconic forbear of both Muck Rock and Ti-Rock: a very special white artist named Kirsha Kaechele, who rose to art-world fame after Katrina by destroying housing stock in St Roch.